PROMO_DANZA_DANZA_MUNICIPAL_LIMPIO_CARMEN-2013-TODO
Carmen | Municipal de Santiago
Georges Bizet
Dance
2h
French
FULL HD
Sin subtítulos
"I don't want to be tormented and I don't want to be bossed around. I want to be free", cries Carmen. This ballet by Marcia Haydée, based on the novel of the same name by Prosper Mérimée and with music by Georges Bizet, tells the story of a determined, tenacious and free woman who finds love and death in the arms of the same man.
Ballet in two acts and six scenes
Music by Georges Bizet
Choreography by Marcia Haydée
Based on the novel by Prosper Mérimée and the homonymous opera by Georges Bizet
Premiered in 2004 by the Santiago Ballet at the Municipal de Santiago – Chile National Opera
Soloists and Corps de Ballet of the Santiago Ballet
Philharmonic Orchestra of Santiago
Artistic team
---
Conductor | José Luis Domínguez
Choreographer | Marcia Haydée
Arrangements and orchestra | Albena Dobreva
Set and costume designer | Pablo Núñez
Lighting designer | Ricardo Castro
Cast
---
Carmen | Andreza Randisek 
Don José | Luis Ortigoza 
Escamillo | Rodrigo Guzmán 
Micaela | Maite Ramírez
Escamillo's Friend | Lidia Olmos
Escamillo's Friend | Gabriel Bucher 
First Officer | Lucas Alarcón 
Second Officer | Emmanuel Vázquez
Chief Smuggler | Esdras Hernández
RELATED CONTENT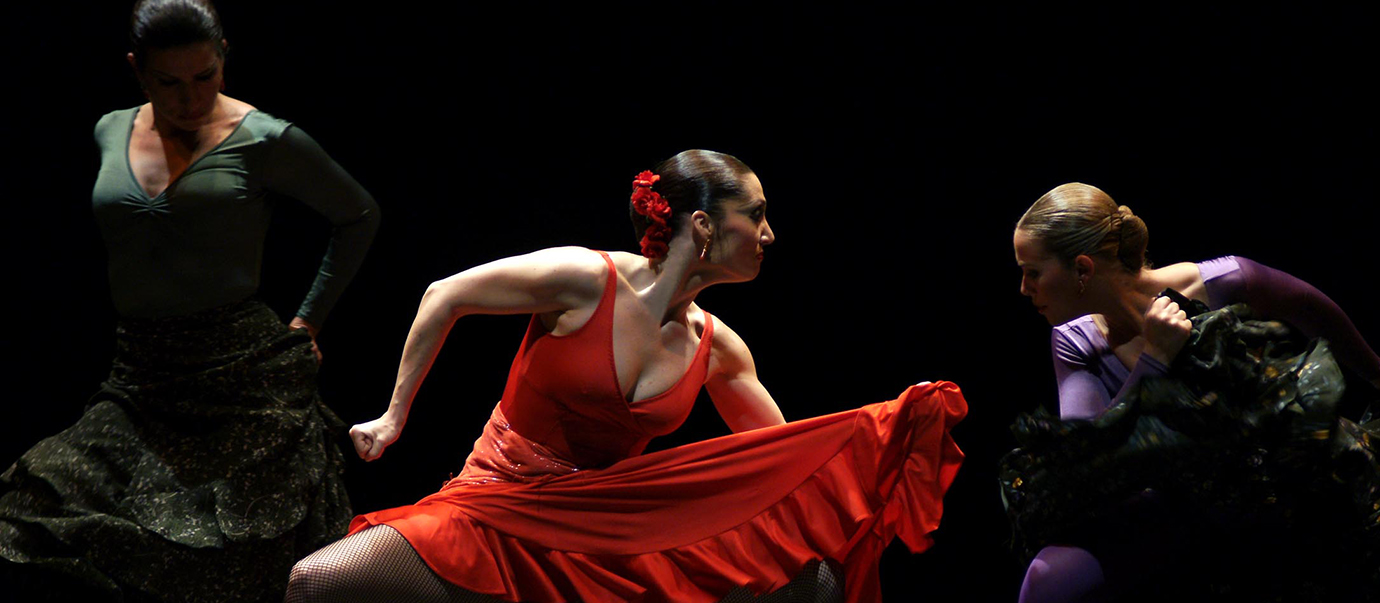 Dance
Teatro Real
Various authors
Antonio Gades, Carlos Saura, Antonio Gades Company
Created by Antonio Gades in collaboration with Carlos Saura, this masterpiece of ballet shows how the power and strength of traditional flamenco are able to express the intense emotions of Merimée's novel perfectly.
Vanesa Vento plays Carmen, a many-sided character: feminine, passionate, combative and free, inconstant in love and a shameless flirt, inspiring desire, rivalry and jealousy among both men and women. Carmen's indomitable nature will lead to her doom, when she takes up with her next lover, a bullfighter, and rejects Don José, whose desperation marks a tragic ending.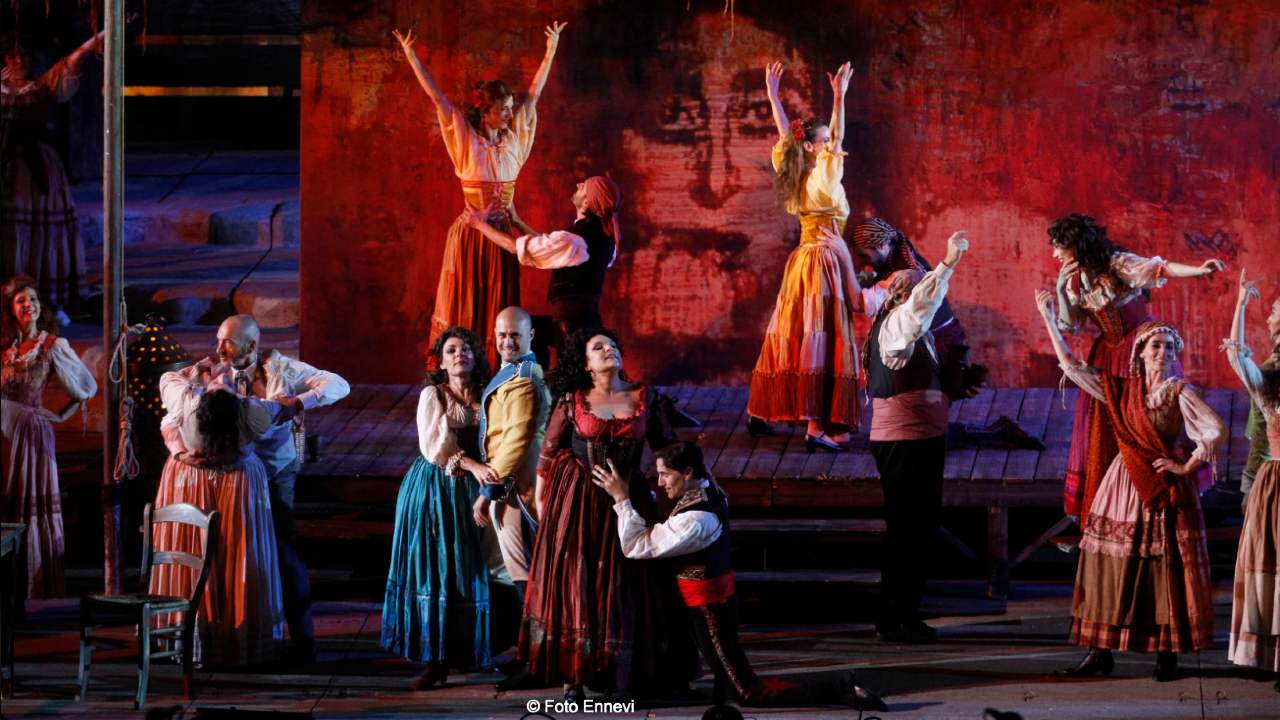 Opera
Arena di Verona
Georges Bizet
Henrik Nánási, Franco Zeffirelli
100 years ago Bizet's passionate and impressive opera Carmen was staged for the first time in the Arena in Verona.
In front of the imposing backdrop of the Roman amphitheatre Franco Zeffirelli's opulent production is conducted by Henrik Nánási and sung by an international cast of excellent singers: Ekaterina Semenchuk in the title role, Irina Lungu as Micaela, Carlo Ventre as Don Jose, Carlos Alvarez as Escamillo.
With the collaboration of Naxos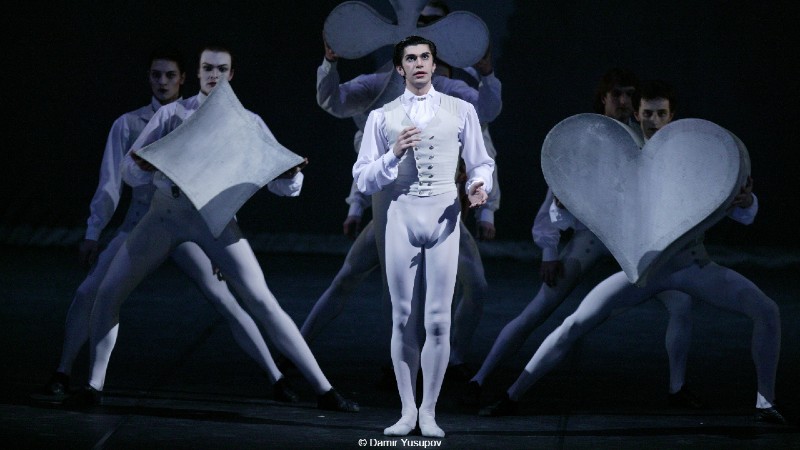 Dance
Bolshoi Theatre
Piotr I. Tchaïkovsky / A. Webern
Roland Petit, Bolshoi Ballet
"Cards are everywhere: they are not only in people's hands, they are on the ceiling, the walls and, most importantly, they are in their minds and hearts. They are the fate of each man, holding out the promise of success or despair and madness. How to get the better of the verdict of fate? How to become the master of your own life? How to learn to sacrifice that simple happiness that you already possess for the sake of an unrealistic love? Love of gambling that, maybe, will make you into a superman." Roland Petit
Roland Petit was not satisfied of his version of Pushkin's master piece The Queen of Spades he created 25 years ago for Mikhaïl Baryschnikov. When the direction of the Bolshoi Ballet asked him a new version of this ballet, Roland Petit read again the novel and wrote a new libretto. For the music, he chose a russian musical monument Symphony n°6 "Pathétique" by Piotr Ilyitch Tchaikovsky.
And so Roland Petit created for the two best dancers around the world (Nikolay Tsikaridze et Ilze Liepa) magnificient and dramatic duets wich are the central episodes of the ballet. For the choreographer, their dance gives rise to a remarkable effect: "it will seem to you that Tchaikovsky's music itself becomes especially pure and penetrating". La Dame de Pique reminds him of "a corrida during which both parties die – the bull and the toreador."
With the collaboration of Naxos