Promo Sabina Puertolas festival perelada
Sabina Puértolas
Granados, Händel, Mozart, Bellini, Rossini, Donizetti
Concerts
1h 6m
Varios idiomas
FULL HD
Sin subtítulos
Sabina Puértolas is one of the most international Spanish sopranos, recognized and acclaimed for her interpretations of a wide repertoire of bel canto and baroque music. Her ever-increasing projection has led her to sing in venues such as the Royal Opera House in London, Teatro Real, Gran Teatre del Liceu, Teatro Municipal de Santiago de Chile, Seattle Opera House (USA), or the National Center for Performing Arts in Beijing (China). In 2001 she made her debut at the Teatro alla Scala in Milan under the direction of Riccardo Muti, playing the role of Oscar in Verdi's Un ballo in maschera, and has since developed an intense international career. Her interpretations, of great expressiveness and theatricality, unite her with the soul of her characters.
Together with the pianist Rubén Fernández Aguirre, the evening will offer songs, romances and arias from operas such as Alcina and Rodelinda by Händel, Il Turco in Italia by Rossini or Lucia di Lammermoor by Donizetti. Puértolas' elegant, musical and highly technical singing promises a night to remember.
Sabina Puértolas, soprano
Rubén Fernández Aguirre, piano
Program
---
Isaac Albéniz (1860-1909)
Six ballads (1888)
Georg Friedrich Händel (1685-1759)
"Se´l mio duol non è sì forte", from Rodelinda                       
Wolfgang Amadeus Mozart (1756-1791)
"Giunse alfin il momento", from Le Nozze di Figaro
Francesco Cilea (1866-1950)
Prelude from L'Arlesiana  
Gioachino Rossini (1792-1868)
"Non si dà follia maggiore", from Il turco in Italia
Vincenzo Bellini (1801-1835)
"Care compagne", from La Sonnambula
Carlos Imaz (1972)
Pinceladas líricas (piano solo)
Enrique Granados (1867-1916)
"Mañanica era"
"Gracia mía" 
Jesús Guridi (1886 – 1961) 
"Goizeko eguzki argiak", from Mirentxu
Astor Piazzolla (1921-1992)
Verano Porteño (piano solo)
"Yo soy María", from María de Buenos Aires                        
Ruperto Chapí (1851-1909)
Carceleras "Al pensar en el dueño de mis amores", from Las hijas del Zebedeo
RELATED CONTENT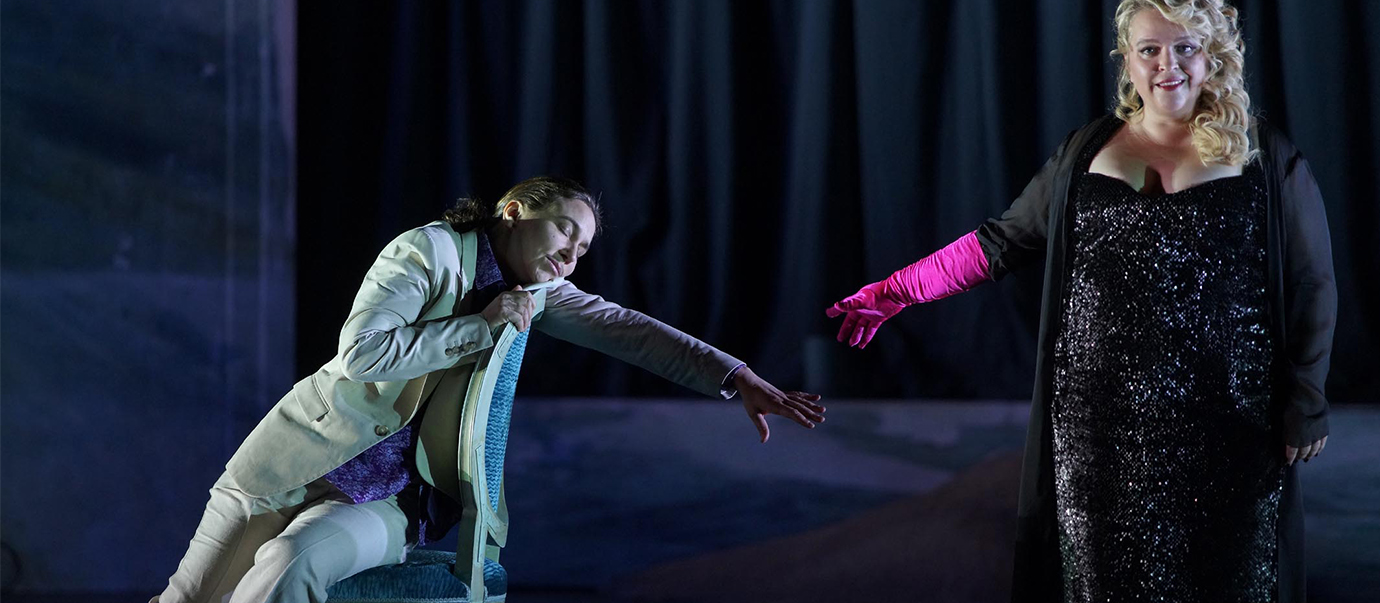 Opera
Teatro Real (Spain)
Georg Friedrich Händel
Christopher Moulds, David Alden
Händel's musical genius and the fantastical story from Orlando furioso, the epic poem by Ludovico Ariosto that inspired the opera, made Alcina one of the most popular operas by the Saxon composer (alongside Ariodante and Orlando, which were also inspired by the same great literary work) performed in Covent Garden in 1735.
The story, which has echoes of Homer, features the sorceress Alcina, who draws the protagonists to her island to seduce them and turn them into part of the landscape; it shows Ruggiero and Bradamante's struggle to get rid of the evil witch, and continues to captivate audiences today with subtle metaphors on the illusions created by love and passion. In this adaptation by David Alden, who was making his début at the Teatro Real, Alcina's magical kingdom is the theatre itself, constructed with references to Hollywood, magazines and musical comedy. The seemingly happy ending when Ruggiero gets married to Bradamante in an entirely conventional way in a suburbs manages to inspire nostalgia for the theatrical world where the sorceress reigned.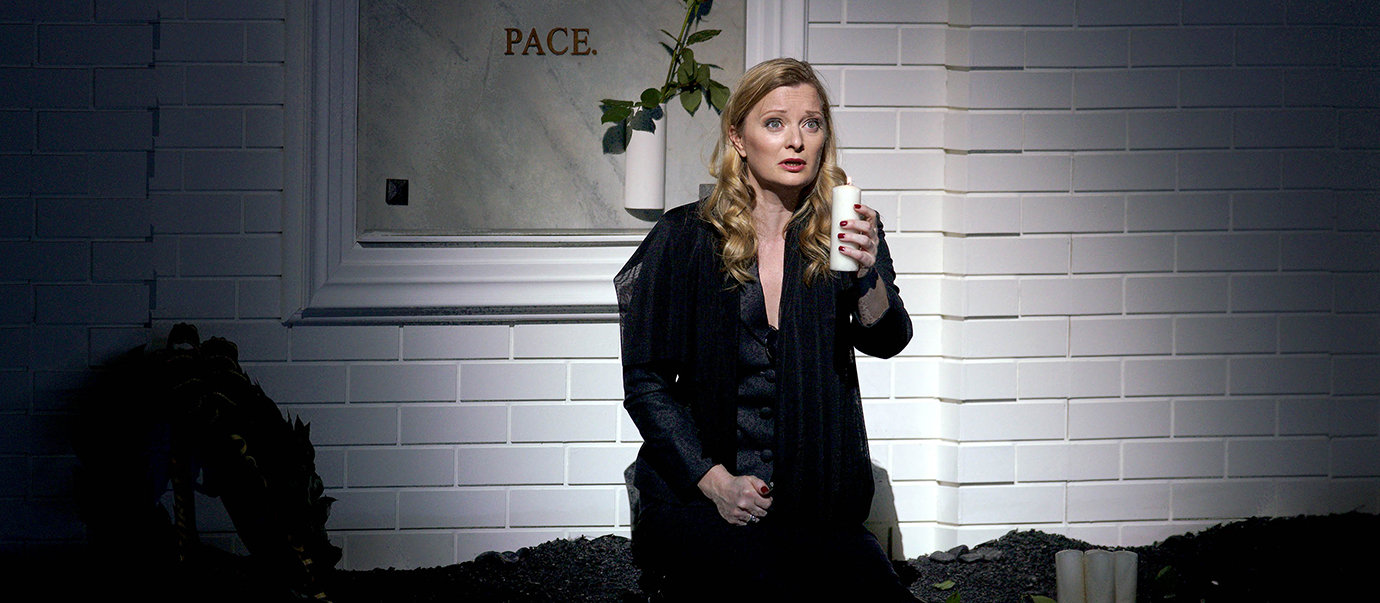 Opera
Teatro Real (Spain)
Georg Friedrich Händel
Ivor Bolton, Claus Guth
Contrary to what usually occurs when great literature is adapted for an opera libretto, Antonio Salvi improved the Pierre Corneille play on which Haendel based his Rodelinda The tyrant Grimoaldo, who has usurped the throne of Lombardy, wants to marry the wife of the deposed King Bertarido. Everyone believes the former king is dead, but he had actually fled into exile and has secretly returned. Between her husband Bertarido and the "Sheep in Wolf's Clothing" Grimoaldo, who seems to be a cruel tyrant,  but is tormented by guilt for his crimes, is Rodelinda. She is at the centre of the story because all  the characters want to legitimise their power by marrying her. Yet she remains completely faithful to her husband, despite the visceral strife of the aspirants to the throne, who want to use her for their own ends. Rodelinda is the most intelligent character, she understands the weaknesses of the others and manipulate them as part of her own strategy.
At the turning point of the story, Grimoaldo decides to abandon his betrothed Eduige and force Rodelinda to marry him to legalize his seizing of the throne. Rodelinda refuses and continues to mourn her husband Bertarido, whom she believes to be dead. But, aware that her position is precarious and that she will not be able to put Grimoaldo's demands off for long, she decides to avoid a definite refusal. Instead, she imposes a condition which she knows will be unacceptable to his weak nature and will drive the mild-mannered tyrant into an anxiety attack. She will only marry him if he first murders her son Flavio with his own hands because -  she tells him plainly - , she refuses to be both the wife of an usurper and the mother of the legitimate heir to the throne. She is a Clytemnestra who refuses to marry Aegisthus during Agamemnon's absence, so that Flavio, if he should survive, would not become a new Orestes, or a Hamlet, who takes revenge on his mother for marrying his father's killer. Rodelinda is a woman of excellent judgement, aware that her marriage to her husband's usurper (and as far as she knows, murderer) cannot lead to anything good. She is also aware that Grimoaldo is a would-be tyrant who is scarcely able to conceal his true nature as a kind and reasonable provincial governor, pragmatic and charming.  He falls well short of the Machiavellian skills needed to fulfil his ambitions.
The truly wicked character in the story is not Grimoaldo, who was able to seize power largely through luck and despite his weaknesses, but Garibaldo, Duke of Turin, who has all the Machiavellian qualities the other lacks. He is scheming to win the throne for himself, and is quite prepared to massacre the entire family in cold blood if necessary. Only the news that Bertarido is not dead can put a stop to his plans.
The story deals with a power struggle set within a family, in a community which is its own world, but which is also a metaphor for human nature itself. This led Claus Guth to set Rodelinda in a family home, the private retreat from the outside world. The most vulnerable resident is Flavio, Rodelinda's son, he is treated as a pawn and is subjected to countless dangers.
One could almost say the main character in the opera is, in fact, this child, who does not sing, but is made to suffer by the terrible cruelty of all the others. It often seems as if the story was being told through the nightmares of young Flavio, whose mother is ready to use him to keep a despised suitor at bay, and if not, to have him killed so he will never grow up to understand the treachery around him and seek revenge. Those terrified eyes see the family home as a threatening space full of dangers, he intuits this without really understanding.
Rodelinda is one of Händel's most extraordinary operas and it includes some of the composer's most inspired passages. Its debut in Spain, in this new Teatro Real production, is a remarkable event.
(Joan Matabosch, Artistic Director of the Teatro Real)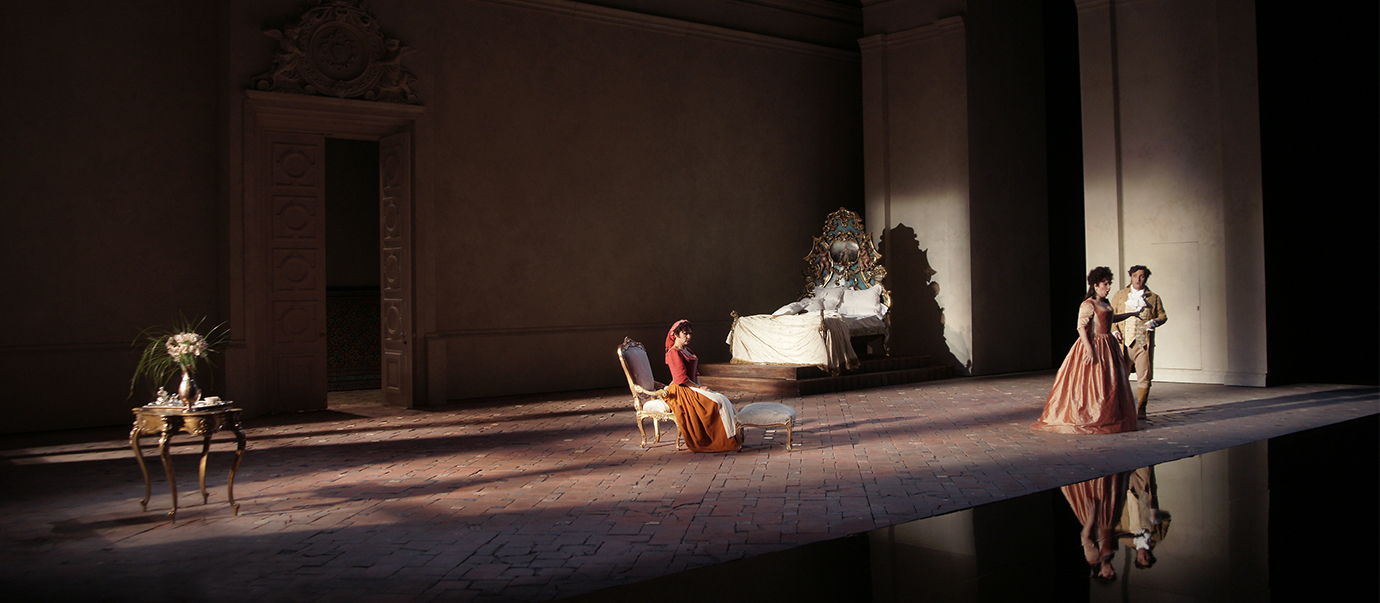 Opera
Teatro Real (Spain)
Wolfgang Amadeus Mozart
Jesús López Cobos, Emilio Sagi
It is not a question of divine inspiration, the truth is Wolfgang Amadeus Mozart put considerable effort into looking for a suitable subject before composing The Marriage of Figaro. Another misconception is that this work reflects the values of the French Revolution, when in fact its underlying theme is a celebration of the "Ehepatent", the new decree on marriage issued by Joseph II, Holy Roman Emperor, in 1783. This decree contained three principles that fascinated Mozart: marriage should be for love; the authorisation of the parents was no longer required; and there should be witnesses to the marriage, leading to the hilarious scene in the opera where Figaro is measuring a room which is scarcely big enough for the bed, when a chorus of twenty people suddenly appears, all of them witnesses. Both Mozart and Da Ponte were aware of the importance of such an edict as part of the modernisation of society, but they also knew that the human impulses are difficult to tame, so that compliance with the new law would be problematic.
The impossibility of human beings reaching utopia often leads to melancholy. Melancholy is present in this opera because all the characters end up losing something: the Countess - love; the Count - power; Figaro - his agility; Cherubino - his innocence; and Barbarina - her virginity. These fine threads weave a complex story and finally depict a humanity worthy of Beethoven: forgiveness is achieved due to the inner  strength of women, as in the leading women of an Almodóvar film.
The way Mozart handles the ensembles in this opera, the purification of Italian melody, and the refinement of German symphony all make The Marriage of Figaro one of the greatest masterpieces in the entire history of the genre, together with L'incoronazione di Poppea, Tristan und Isolde, Falstaff and Wozzeck.