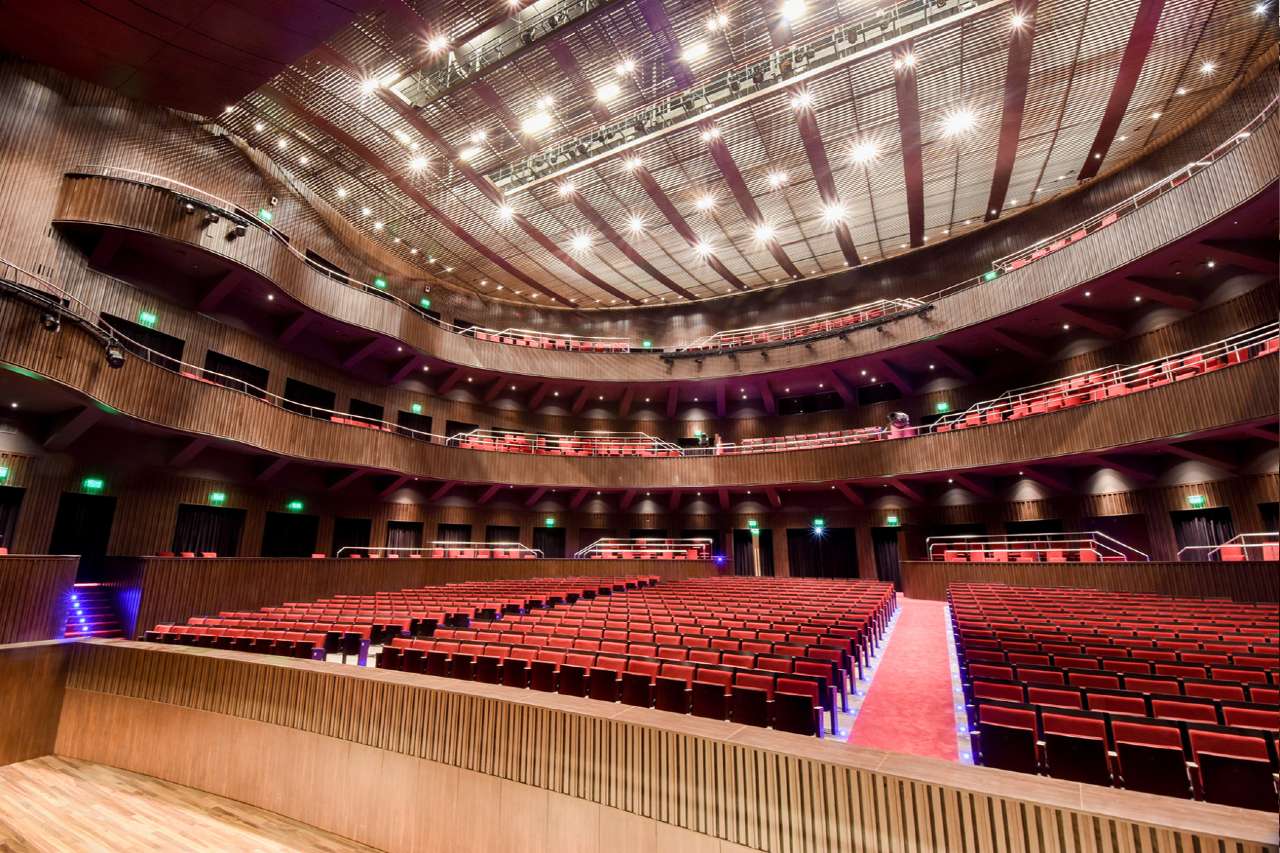 Teatro del Bicentenario
Teatro del Bicentenario in the city of San Juan, Argentina is one of the most important cultural centers in the country. The modern design and outstanding technological and acoustic conditions of its Main Hall place the theater among the best stages of the world enabling the staging of major shows.
Las Heras 430 sur – Capital de San Juan, Argentina
View Address
1129 people
2016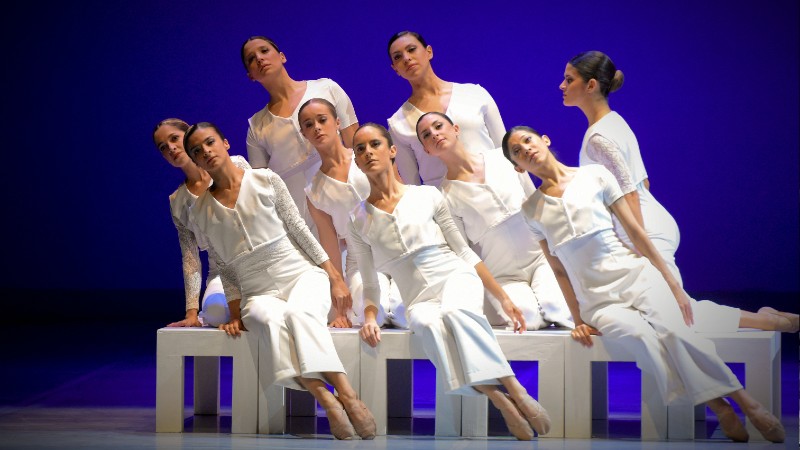 Dance
Teatro del Bicentenario
Georg Friedrich Häendel
Mauricio Wainrot, Carlos Gallardo, ELI SIRLIN
Wainrot ha relatado que crear una obra coreográfica con un tema como "El Mesías", surgió por diferentes necesidades y en el estreno en Buenos Aires en el año 1999 escribió en el programa de mano:  ¨Siento que, en este fin de milenio, por ser destacados protagonistas de una fecha y evento semejante, nos hace de alguna manera ser testigos y partícipes privilegiados del hecho. Será tal vez una fecha meramente estadística, pero que sin duda posee una carga emotiva y mística del mayor voltaje. "El Mesías" representa para mí, en este especial momento, una mirada a nuevas y-o viejas utopías, una mirada hacia nuestro interior, una necesidad de volver a escuchar nuestros íntimos silencios y de acercamiento a los otros, especialmente a los seres más cercanos, a esos que amamos, a los que comparten nuestra historia y destino y a los que fueron y son testigos de tantas alegrías como penurias. Crear El Mesías, ha sido una experiencia personal que me conmueve poder participar con todos¨.
La obra se desarrolla en una maravillosa atmósfera creada por la escenografía y el vestuario de Carlos Gallardo, donde todo es de suma claridad, diáfano como un cielo -piso, fondo, bancos, vestuarios y la caja escenográfica que la contiene- brindando un perfecto marco para mi ballet.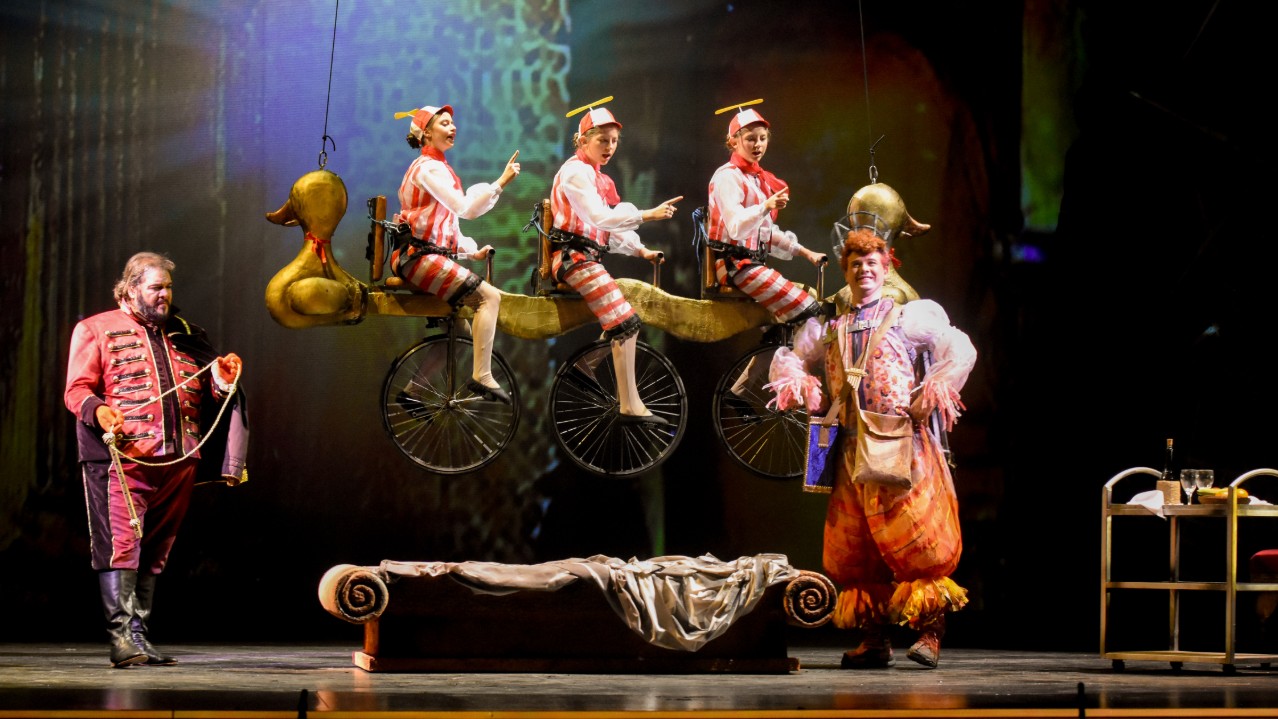 Opera
Teatro del Bicentenario
Wolfgang Amadeus Mozart
Eugenio Zanetti, Duilio Smiriglia, Marina Silva, Fernando LÁzari
Trying to escape from a monster, Prince Tamino enters the territory of the Queen of the Night.
During his fight with the monster, he falls unconscious. Three Ladies of the queen's court kill the monster with their magic and finally save the prince. Upon awakening, the prince sees the dead monster and, next to him, finds Papageno, a bird hunter in the service of the queen, who claims to
be Taminos' savior. Papageno takes credit for defeating the monster. Enraged with Papageno for his lie, the Queen of the Night orders her Three Ladies to punish him by placing a gold padlock on his mouth. After meeting Prince Tamino, the Queen of the Night asks him to rescue her beautiful
daughter Pamina, who is kept captive by the evil King Sarastro. The noble Tamino accepts the challenge. He undertakes the crusade with Papageno, who agrees to go with him on the mission in order to be forgiven and released from his punishment. The Queen of the Night gives Tamino an
invaluable magical object, "a magic flute" that has the power to change the state of every living beings.
Pamina finds herself captive in the palace of King Sarastro, and is stalked by Monostatos, a servant of the king and vile suitor of her love. Sarastro discovers how bad Monostatos treats Pamina and decides to exile him.
Tamino falls in love with the Princess and asks Sarastro for Pamina's hand. The King and his priests discuss whether to accept or not the initiation of Tamino and Papageno. Everyone accepts the proposal, but they require both to achieve virtue by passing three tests. Three wise kids impose
them the test of silence, and lead Tamino to a forest where there are temples dedicated to Wisdom, Reason and Nature. Once there, a Priest explains Tamino that Sarastro is a noble and wise person. The solemn and moving atmosphere awakens in Tamino the desire for knowledge. Upon passing
the imposed tests, Tamino understands that Sarastro has retained Pamina to protect her from her heartless mother and thus obtains the grace of the monarch. Papageno, for the help provided, gets an almost divine luck: he finds Papagena with whom he can share his life.
Besides that, Sarastro defeats the Queen of the Night, since good always triumphs over evil and light makes darkness disappear.